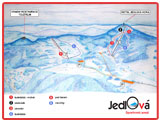 Ski resort Jedlová is considered to be the best place to enjoy skiing and snowboarding in the Lusatian Mountains. Top of the resort is in the height of 776 metres above sea level. Skiers and snowboarders can choose between two downhill tracks:
Jedlová
length - 1200 metres (T-bar lift for two people)
We are currently working on getting permissions necessary to begin building a storage tank for water used for making an artificial snow (including all necessary studies). Our goal is to build up a top skiing resort with lit up slopes, artificial snowing and a chair lift.